Education Foundation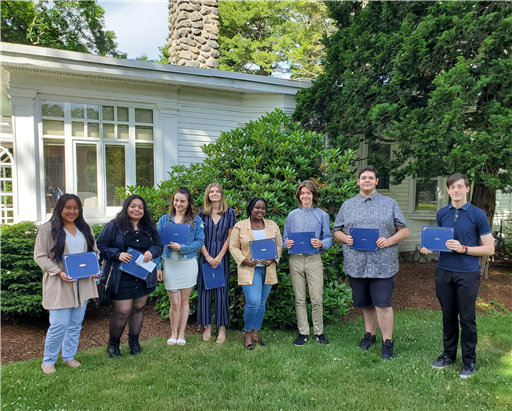 Originated by the Directors with private funds in 1997, the Puritan Lawn Education Foundation was established to identify and recognize the efforts of high school seniors who have had to put family first and education second throughout their career, and provide the momentum needed to succeed academically.
The goal of the Puritan Lawn Education Foundation is to annually award scholarships that might positively change a student's path in life. The ideal candidates have dealt with extreme and extenuating circumstances in their personal lives and have handled these situations with great levels of responsibility and character.
Originally, the Foundation's goal was to furnish a four year scholarship to deserving applicants. We now recognize the need for financial assistance toward Trade schools and community schools as well. Toward these ends, the Foundation has increased its' annual gifts.
In 1997, the Puritan Lawn Memorial Park Education Foundation was established to provide direct financial aid to students who might otherwise be overlooked when seeking college education assistance. The Foundation is designed to provide financial assistance to students who may not have performed to their potential due to circumstances beyond their control. Scholarships are awarded to students who have faced extreme hardship during their high school years, yet are highly motivated to continue their education. The Foundation awarded its first scholarships in May 1999.
What are some characteristics of previous scholarship awardees?
Our previous awardees have displayed strong integrity and character while also excelling academically. They have fled war-torn countries as refugees, overcome addiction, financially, emotionally, and physically supported their families and/or themselves, have suffered abandonment, and the list goes on.
The applicants are worthy and the goal is steep. There are no salaries or internal expenses taken from donations or purchases of Foundation offerings. 100% of funds donated support student scholarships.
Requirements and Eligibility
Scholarships are awarded each May. Individual scholarships have been awarded in amounts up to ten thousand dollars, based on funding available. The scholarship award presentation occurs on Memorial Day Weekend.
Eligible candidates will include those who:
Reside within Essex, Middlesex, or Suffolk counties;
Will be pursuing, full-time, education beyond the twelfth grade; and
Need additional financial assistance to continue your education.
The final round of applicants will be invited to join the Directors for an in-person interview.
Interested students may download application packets or obtain them through their high school's Guidance Office.
Applications must be received by the date indicated in the application packet.
The Puritan Lawn Education Foundation does not discriminate on the basis of race, color, national or ethnic origin, ancestry, age, religion or religious creed, disability or handicap, sex or gender, gender identity and/or expression, sexual orientation, military or veteran status, genetic information, or any other characteristic protected under applicable federal, state or local law.
Past Winners
2022
Elizabeth Pierce – UMass Amherst
Jennifer V. Robles – UMass Lowell
Kasey Cummings - UMass Boston
Patrick Kiley - Northeastern University
Jasandra Luciano - Salem State University
Angela Gomez - Salem State University
Annie Joseph - Curry College
Maxwell Beauchesne - University of New Hampshire

2021
Elizabeth Pierce – UMass Amherst
Jennifer V. Robles – UMass Lowell
Hailey Lewis – UMaine Orno
Kasey Cummings - UMass Boston
Patrick Kiley - Northeastern University
Jasandra Luciano - Salem State University

2020
Elizabeth Pierce – UMass Amherst
Jennifer V. Robles – UMass Lowell
Hailey Lewis – Bishop Fenwick High School
Peyton Applegate – Marblehead High School
2019
Sarena O. Santos – UMass Amherst
Elizabeth Pierce – Lynn Classical High School
Faith A. Brock – North Shore Recovery High School
Jennifer V. Robles – Lynn Vocational Technical Institute
2018
Limya Abdelkarin – Lynn Classical High School
Allia Parianos – Danvers High School
Sarena O. Santos – UMass Amherst
Rachel Calnan – Lynn English High School
2017
Parianos – Danvers High School
Sarena O. Santos – UMass Amherst
Rachel Calnan - Lynn English High School
2016
A. Killoren – Northeast Metro Tech
Alexcea Hickey-Jimenez – Lynn Classical High School
Alexandra L. Gerardi - Lynnfield High School
Leona K. Smith - UMass Boston
2015
M. Fabiano – Northeast Metro Tech
Bianca V. Rosato – Saugus High School
Leona K. Smith – UMass Boston
Janice M. DeStefano – UMass Lowell
2014
Brian K. Castellanos – Framingham State University
Leona K. Smith – UMass Boston
Janice M. DeStefano – Revere High School
2013
Brian K. Castellanos – Framingham State University
Leona K. Smith – Revere High School
2012
Brian K. Castellanos – Framingham State University
Taye D. Abraham – Lynn Classical High School
2011
Brian K. Castellanos – Framingham State University
2010
Brian K. Castellanos – Framingham State University
2009
Brian K. Castellanos – Lynn English High School
2008
Delphine M. Acha – Umass Lowell
Joshua D'Urbano – Revere High School
Michelove Cajusma – Lynn English High School
2007
Katrina Caron – Danvers High School
Delphine M. Acha – Lynn English High School
Andrew Harding – Lynn English High School